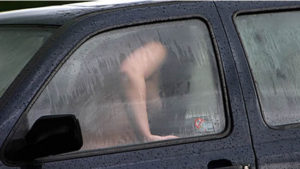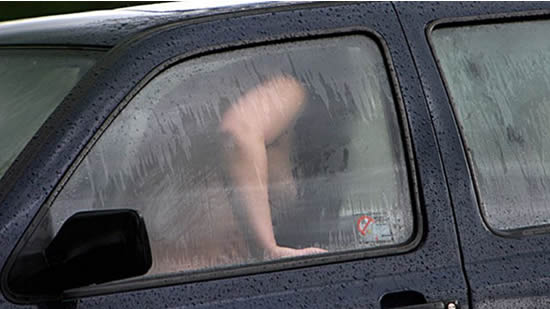 Ahhh – spontaneous sex. Even the phrase alone conjures images of youth, tropical holidays, cocktails by the beach and random acts of lust in the back of cars. The longing many of us have for spontaneous sex is not so much the idea that we're just walking down the street and BAM, there we are having sex on gritty, grubby terrain. Rather the abandon we long for is richer; speaking more to an experience of recklessness rather than a curated set of sexual manoeuvres. It's what spontaneity represents that lures us in and keeps us hooked. While youth is synonymous with passion, freedom and spontaneity, no one over 30 would be inclined to take sex advice from a teenager, yet we successfully convince ourselves that great sex must be spontaneous and carefree in order to be fulfilling.
"Passion is for teenagers and immigrants" – Marge Simpson
Spontaneous sex offers the prospect of freedom. For many, spontaneous sex is actually completely impractical, but an intoxicating idea. It's the elixir of abandon that eliminates admitting we feel awkward about our relationship with sex. It's the adventurous thrill of being alive. It's having no more fucks to give. It's the bliss of ignorance. It's being free of inhibitions, burdens and the discomfort that comes from having sex within an emotional transaction that matters; like a long-term relationship. Yet despite the hype, many in long-term relationships describe spontaneity in sex as being a major problem. They're not living the dream and they feel bad about that. It appears that nothing is a greater libido killer than the pressure to be spontaneous in front of someone whose opinion really matters to us.
Much of what we associate with spontaneous sex is not so much the unexpectedness of it, but rather the passion and enthusiasm of it. The fantasy of getting swept up in the moment is attractive. It offers a balm to soothe any strain we feel broaching the topic with partners; because in spontaneous sex – it just magically happens. We're not responsible, we're not weighed down and we're not anxiously worrying about who's coming (literally) or what kind of performance we are putting on. We are free of the burdens and tension that arise from facing the realities of making sex a priority. We are the desired and the desiring. And there's no room for confusion. No wonder it's so damn attractive.
The Ultimate Sexual Fantasy.
Spontaneity, like sexual fantasies, offer a release from responsibility. Sexual fantasies offer us the opportunity to escape the mundane. To be who we long to be. To feel how we long to feel and to have the kind of sex we long to have – or not. In the flash of a neuron we are a masterful Casanova, an irresistible seductress, a whore, a sex slave, a sissy or desired by many faceless strangers – all without having to say a word. Or we are just able to be in the throes of passion with our lover magically knowing everything we want, without having to explain any of it. No words, no misunderstandings. Power, seduction, taboo and fulfillment are all guaranteed should we summon them. But unlike real-word sex which is often less graceful, such scenes of abandon unfortunately require ample preparation; forethought at best and communication at a bare minimum.
In contrast to the popularity of desiring spontaneous sex, fantasy sex may not be any thing we want in real life. It may be inappropriate, illegal or cause more damage than it's worth so we leave it right where it is, in our minds and / or our bodies. It can inform our moods and preferences but doesn't have to run the show. But the one fantasy that dominates so many discussions in sessions with my clients is how the mythical

beast that is spontaneous sex consumes the sex lives of otherwise well-seasoned, intelligent and experienced lovers. While we have the emotional intelligence to recognise that not all fantasies need to be acted upon, what is it about spontaneous sex that lingers like a turd in someone else's bathroom?
My hunch is that the pervasive nature of this myth stems from our discomfort discussing sex. If we just get on with doing it, everything will sort itself out. There is some truth to that too. Where such chronicles of spontaneous sex are driven by a lack of information, as we get older and know more about our sexual selves, we do not have a framework through which to talk about it. Its feels awkward, tricky and isolating – the very things we don't want to feel with a partner. We revert to what we did as teens when we knew little about sex – which was to just close our eyes and hope for the best. We long to feel close but the pressure for good sex is too great. Instead a silent deterioration slowly erodes the connection we crave. We focus more on what we don't have than what we do have and the prospect of discussing it feels too difficult. We don't want to rock the boat. We feel too vulnerable. It's easier to just ignore it. Or is it?
If the direction of your sex life is troubling you, this is an invitation to get proactive. Both doing and communicating. Replace the fantasy of spontaneous sex with something practical and useful that will facilitate the connection that you want. Remember, part of the thrill of being spontaneous is the abandon. It's not necessarily the lusty adolescent awkwardness of navigating grassy, sticky or sandy landscapes, but rather the permission you gave yourself to feel the trepidation mixed with excitement and dive in anyway. Renowned therapist Esther Perel noted in her ground breaking book Mating in Captivity that one reason many people have affairs is not because they no longer love their partners, but because they long to feel themselves again. They do not like who they have become and seek excitement elsewhere to remind them of themselves. I believe this is also true of spontaneity. We crave it to remind us of what it felt like to be free of the hum-drum of existence of our daily routines. Because when we first get together, there is much less emotional investment – there is more attention to passion and seduction but less on the strain of complex but comforting emotional terrain. Yet the very thing that textured, complex emotions create are the warmly enriching relationships that serve so many other parts of our purpose in relationship. To demand both abandon and stability in the same relationship is a tall order, but not impossible. There's no short answer, but there are a multitude of possibilities. Are you really ready for it?
How might you create space in your relationship to feel both uneasy yet brave?
What if you took the risk to talk about the kind of sex you might like to have with your partner?
What if spontaneity took a back seat and pleasure came into greater focus?
If you could create the kind of sex life you wanted, what might it look like?
Use the helpful questions above to get the ball rolling and should you need guidance, be sure to look into getting some assistance from me in a private coaching session online.
The Desire Series
The Desire Series online course offers you 3 hours of video tutorial along with 11 unique and detailed worksheets designed to transform your relationship with desire.
These three live webinar recordings delve deep into the most common problems many people struggle with regarding their relationship with desire, and offer you tailored solutions through the carefully crafted worksheets to help you understand how your desire operates.