Couple's Weekend Intimacy Retreat
My partner and I were very pleased to have the opportunity to meet and work with Cyndi Darnell. While Cyndi is a professional in her field of work and knowledge, her bubbly personality, soft and nurturing approach, yet modern and straight to the point fun sessions ensured we felt safe, comfortable and relaxed during our time working together.

Any skepticism, doubts, and uncertainty we were experiencing at the beginning of this 5 star course quickly disappeared with Cyndi's help, as we learned, embraced and felt emotions and experiences we didn't even know we were missing. She was with us every step of the way, our sessions were completely professional, no sleaze or discomfort. If anything Cyndi's personality shone through and made us feel we had known her for years thus enabling us to focus on ourselves easily.

We feel because of Cyndi, we have been able to bond and connect deeper, not just emotionally but also sexually. Through techniques taught to us together, we experience more gratifying and intimate lovemaking. Cyndi's sessions are very therapeutic, self-discovering, emotional and stimulating.

We without hesitation recommend Cyndi Darnell to everyone! Couples or singles. Cyndi will teach you and help you find that something inside yourself that you don't

even know was missing.

– Sam
Let me take you from where you are to where you want to be…
You want to connect with your lover, deeply, soulfully and from a place of tenderness and passion. You want to experience exquisite pleasure, free of judgement, where you can be authentic and expand. Watch your tension simply fall away and be enveloped in an ecstatic experience you will never forget. Many couples seek guidance to expand, deepen and enhance their sexual and intimate relationships. The Couple's Weekend Intimacy Retreat has been developed to offer an exclusive and exquisitely tailored personalized service for lovers ready to take the next step in their intimate connection. The program has been designed specifically for partners who are ready to embark on a journey into erotic freedom. This weekend is perfect if you are:
looking for ways to reinvigorate your sex life

keen to learn more about creating WHITE-HOT pleasure

craving the freedom to really experience your connected, nourishing, erotic potential in a safe and totally private environment…
then this ultimate couple's sensuous retreat is perfect for your needs.
You will be introduced to the secrets of what makes sex connected, passionate and invigorating. You'll learn new ways of exploring your and your lover's body to enhance connection and eroticism. Contained within a safe and confidential environment, you will learn how to bring out the best in your intimate expression expression by practicing trust, deep connection and honoring boundaries. If you have found yourself wanting more... you have found what you are looking for.
WHAT WILL WE DO?
You and your partner are invited to dive into this unique 5 star offering of deep exploration of erotic connection. Each star builds on the previous and includes a combination of theory,embodiment, sensual expression and connection plus variety of techniques to help you get out of your head, into your body and get the most out of your pleasure.
Each star is delivered step-by-step and include:
Star 1 – Waking up from the Sleep: Understanding your Body & Eroticism
Star 2 – Conscious Touch & Breath – Savouring Your Lover
Star 3 – Introduction to Full Body Orgasms
Star 4 – Exploring Mindful Eroticism
Star 5 – Energizing Sex
Each star is uniquely delivered to meet your specific needs and level of experience. Beginners will be gently introduced to new concepts and techniques while advanced players will have an opportunity to reframe their knowledge and experience, explore blockages and distractions and enjoy a rich and visceral weekend of playful exploration under my guidance, care and undivided attention.
*Develop & rekindle powerful erotic connection with your partner

*Experience deep heart-connection through nourishing embodiment practices

*Learn the secrets of exquisite sensual touch

*Learn how to communicate about pleasure

*Expand your sensual and erotic wisdom

*Develop techniques to enrich intimacy

*Learn to give and receive erotic awakening massages
*Be confident in your full potential as a lover

*Experience the power of vulnerability

*Remember how to play erotically again
*Release sexual shame

*Experience pleasure in your body despite physical problems, aging, menopause etc

*Say good-bye to boredom and painful sex

*Transform sexual blockages into opportunities for connection

*Create memories of a lifetime
WHO IS IT FOR?
The Couple's Weekend is for couples who are really ready to commit to expanding their connection through erotic and sensual growth. It is perfectly suited to couples who have a deep love and respect for each other and are ready to take their sensual connection to a new level of bliss and erotic potential. Whether you're new to erotic exploration or looking for private tuition and guidance for you and your lover with an experienced sex coach, these sessions can be a great gift to yourself , your lover or for those about to celebrate their nuptials / commitment.
This program is only for couples who have done some kind of personal development / couples coaching / growth work before. This is not a beginner's level program, nor is it therapy. If you are a beginner, please look at the counseling & coaching services or online pleasure school instead.
This is an individually tailored program to ensure your privacy and my full attention, giving you the freedom to really experience your erotic potential in a safe and totally exclusive environment.
HOW DOES IT WORK?
You are invited to spend a full weekend with me as I lead you and your beloved on a journey into profound sensual connection exploring:
*the secrets to what makes good sex great

*how to connect to yourself and your partner

*how to turn on your 'turn ons' and turn off your 'turn offs'

*how to build and sustain erotic energy

*understanding the potential of friction and power

*techniques for embodied, conscious sexuality

*playful risk-taking and techniques to overcome blockages

*the effectiveness of activity, receptivity & surrender

*and so much more
This premium service is strictly by application only.
WHAT'S INCLUDED?
More than just 'spicing up your sex life', this weekend navigates not only the skills you need to go there, but also the confidence to be able to stay there and be fully present in your erotic, sensual power!
In total you get the full weekend 9.30 - 7pm both days plus breaks for lunch plus three video consultations: your initial application before and 2 after.
To start your application, complete the form. Then we arrange to meet via video chat first to be sure we are a good fit for each other. We'll look at dates that will work, what's required and expected of you and your beloved and you'll have a chance to get clear on what you want to get out of it.
From there we arrange the finer details of the weekend including my travel arrangements to you (if required) or yours to NYC.
Costs for the retreat vary according to availability, travel expenses and timing. Fees will be discussed during the application interview. There are no fee reductions / exceptions available for this program.
This is my ultimate offering to lovers of all genders & orientations seeking more from their sex lives. I look forward to hearing from you.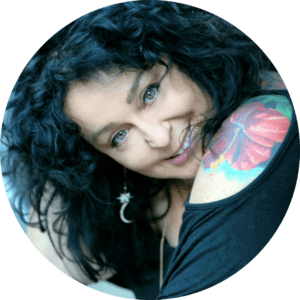 I'm Cyndi Darnell, internationally renowned clinical sexologist, sex and relationship therapist, sex coach and educator. My work has been featured around the world on TV, radio and print media including international publications like The New York Times, The Washington Post, New York Magazine, O-The Oprah Magazine, The Huffington Post, The Guardian, Vice, Mind Body Green, Bustle, Cosmo and so many more.
I have spent over 20 years studying and exploring human sexuality, pleasure, connection, emotions and relationships, not to mention having my own fair share of experiences along the way. It's the culmination of this work that has lead me here to create this online school for you.
So many of us get no sex education, limited sex education or simply do not know how to integrate the information we find about sex online. Many of us have no one to talk to about this stuff and some of us don't feel comfortable even discussing this with our partners. There is still a stigma about seeing a sex therapist or asking for help because we are expected to just magically know how sex works, as if sex is natural and everything we need to know gets downloaded by magic with no effort on our part at all. But none of this is true. Just like learning to paint, draw or cook, we must learn from someone who knows more than we do, at least to get us started on new techniques.
Imagine approaching sex with same curiosity and excitement you feel about taking a new class instead of dread or awkwardness. Imagine having the skills to be able to really understand yourself, your body and your partner's body and truly share that with another.
Like with anything worthwhile, if we want to master something, we need to invest in it. To learn it. Practice it and dedicate some time to it. Sex is one of those things. Right now you have two options. You can continue as you have been, hoping things will get better, avoiding the frustration, underwhelm and disappointment of 'business-as-usual' sex or you can make the decision to do something different, to learn more about sex, pleasure desire, touch, the body and so much more.
I am super excited to have these offerings for you and I look forward sharing my knowledge and expertise to help you create a life worth loving.
Complete this form to begin your application
Please be aware that my emails often end up in SPAM folders because filters flag emails containing words like sex, pleasure, desire etc as Junk.
If you do not get a reply within 48 hours - check your spam folder as my emails end up there.